Nuts
Dried Fruit
Seeds & Snacks
Brazil Nuts
A snack from the Amazon Rainforest.
This South American nut grows on a tree of the same name, some of the largest trees in the Amazon Rainforests. It is native to the Guianas, Venezuela, Brazil, eastern Colombia, eastern Peru and eastern Bolivia. Brazil nut trees produce fruit almost exclusively in pristine forests, as disturbed forests lack the large-body bees which are the only ones capable of pollinating the tree's flowers. They are also a good source of vitamins and minerals. Brazil nuts make great snack foods and are commonly sold on their own or in nut mixes, and because of their rich taste, can often substitute for macadamia nuts or even coconut in recipes.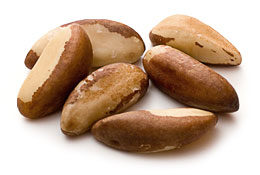 Sizes & Packing
Medium

44 lb. carton

Midget

44 lb. carton

Small

44 lb. carton

Large

44 lb. carton

Chipped

44 lb. carton

Broken

44 lb. carton

Diced

25 lb. carton
Origin
Bolivia, Peru, Brazil
Why Choose JF Braun?
When you select us as your partner, you benefit from our strength in the market, our know-how in shipping and logistics, and our promise of quality. We deliver along every step of the way.