Nuts
Dried Fruit
Seeds & Snacks
Cranberries
A new favorite healthy snack.
These deep red berries have recently gained popularity as a "superfruit" due to their nutrient content and antioxidant qualities. When ripe, they are both bitter and sour, but as a dry product they are sweetened, which makes them ideal for snacking or as an ingredient in baking. We source our cranberries from Chile, the largest producer of cranberries outside the United States.
As a Southern Hemisphere crop, the Chilean cranberry harvest runs from late February through June, which gives us access to product when other crop sources are out of production.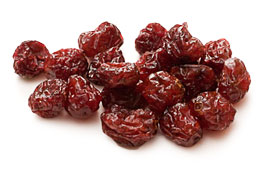 Styles, Varieties & Packing
Regular SDC

25 lb. carton

Soft & Moist SDC

25 lb. carton

Diced

25 lb. carton

Double Diced

25 lb. carton

Glycerated

25 lb. carton
Origin
Chile
Why Choose JF Braun?
When you select us as your partner, you benefit from our strength in the market, our know-how in shipping and logistics, and our promise of quality. We deliver along every step of the way.