Nuts
Dried Fruit
Seeds & Snacks
Papaya
Fruit of the Angels.
The papaya is a tropical, fleshy fruit native to the tropics of the Americas, but cultivated in tropical climates around the world. Our dried papaya comes from Thailand and is available in chunks, dices and spears.
Dried papaya is popular in snack mixes or on its own.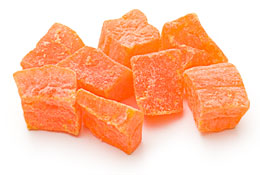 Styles, Varieties & Packing
Chunk

44.092 lb. carton (4 x 5Kg)

Diced

44.092 lb. carton (4 x 5Kg)

Spears

44.092 lb. carton (4 x 5Kg)
Alternate options include:
Low sugar with SO2
Low sugar no SO2
Natural color
Origin
Thailand
Why Choose JF Braun?
When you select us as your partner, you benefit from our strength in the market, our know-how in shipping and logistics, and our promise of quality. We deliver along every step of the way.